Just a reminder that all Alba-Golden students are invited to participate in the Summer Feeding Program offered through Mineola ISD!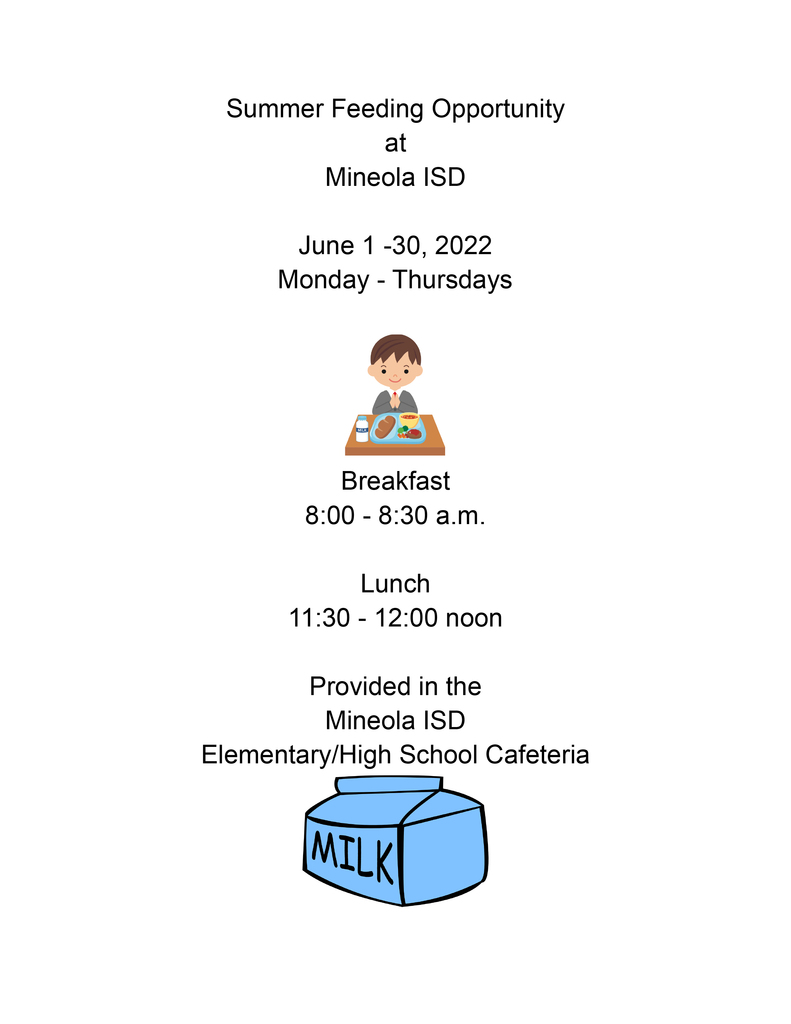 A notice to parents that end of year report cards have been uploaded to your Parent Portal. Please visit
www.agisd.com
and click on "parent portal" in the upper right corner to login to your student's account.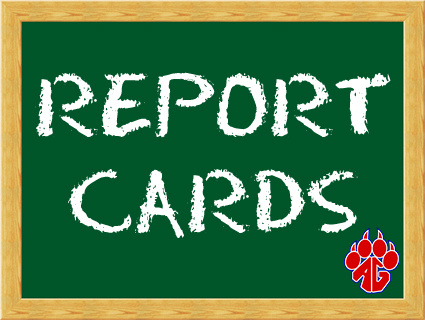 Attention Parents/Guardians! Curious where your children stand academically? Log in to TexasAssessment.gov and access detailed information about their performance during the 2021–22 school year. STAAR results can help you learn if your child is on track in key subject areas. Four Easy Steps - Visit TexasAssessment.gov. - Click "Lookup unique access code" and log in. - Review your child's STAAR results and the personalized resources to support learning at home. - At the beginning of the school year, discuss the test results with your child's teacher and work together to support your child's learning. If you have difficulty accessing this information or get an error and are unable to login for any reason (e.g., an incorrect or absent Social Security Number), please contact your student's campus for help with logging in.

Our Elementary Awards Days are quickly approaching! We invite all parents and families to join your student(s) for their special day.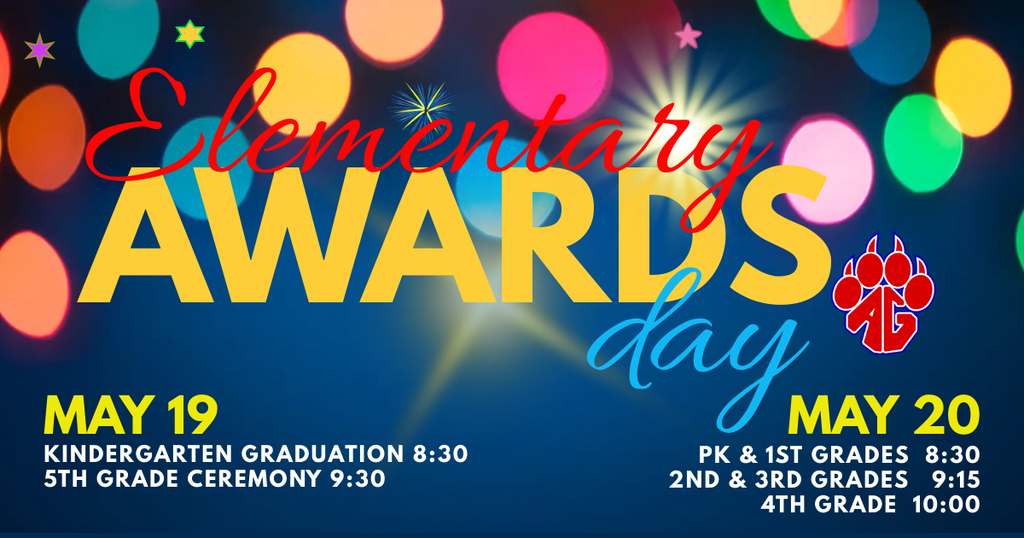 AGISD would like to welcome Deputy Kevin Atkinson to campus. We would also like to thank the Wood County Sheriff's Department for their partnership in providing Deputy Atkinson's services as our new School Resource Officer.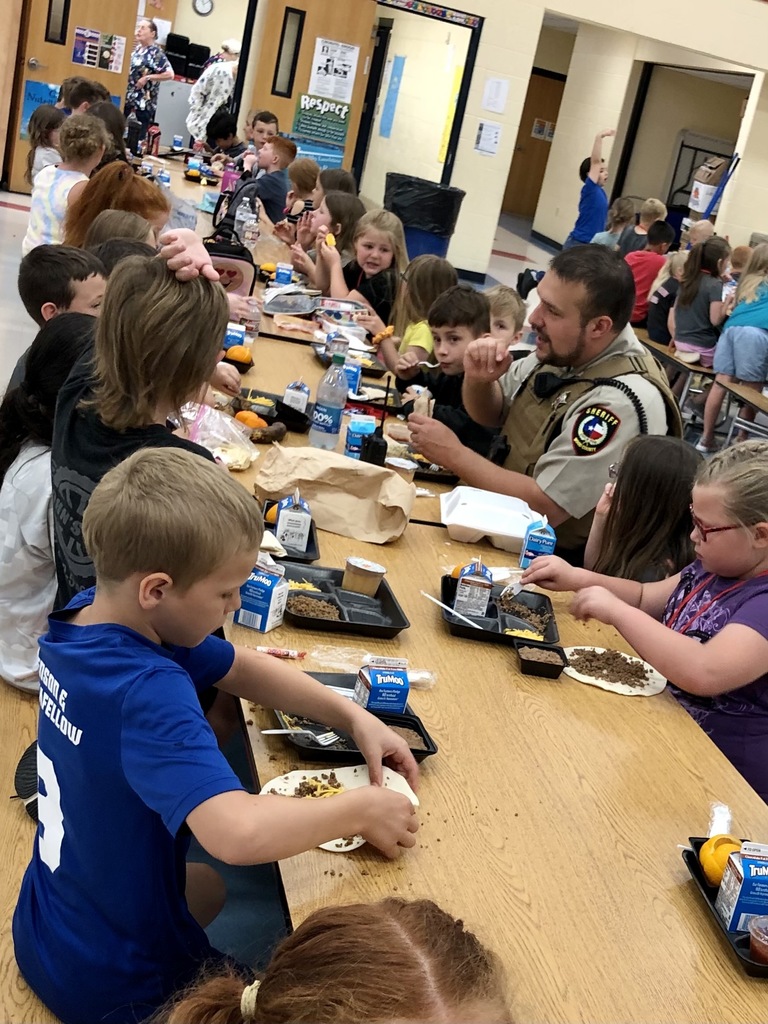 Congratulations to Mrs. Brittany Hall! Mrs. Hall was unanimously approved as Secondary Principal effective July 1st at Monday night's board meeting. Mrs. Hall is currently an Assistant Principal on the Secondary Campus. Prior to this role, she served as the school's Culinary Arts teacher. Mrs. Hall's career in education includes stops in Angleton ISD, Center ISD and Sealy ISD before coming to Alba-Golden. In addition to her leadership experience as assistant principal, Mrs. Hall was CTE Department Chair at Sealy High School. Mrs. Hall is a graduate of Texas A&M University where she received a Bachelor of Science in Agricultural Science. She later received a Masters of Education and Principal Certification from Stephen F. Austin University. Mrs. Hall resides outside of Golden with her husband, Lee, a Wood County Game Warden, and her sons Deacon and Rhett. According to Mrs. Macie Thompson, current Secondary Principal and incoming AGISD Superintendent, the interview committee was impressed with Mrs. Hall's passion for educating our students and making AGISD the very best it can be. "Mrs. Hall brings a depth of knowledge and experience in CTE to the principalship and will be a huge asset to the district as the secondary campus continues to move forward in this area. She has proven herself as an instructional leader and has a track record of building positive relationships with students, teachers and parents. There is no doubt Mrs. Hall will continue our culture of high expectations and academic excellence at AG Secondary."

A special recognition was given to Mr. Kevin Wright at Monday night's board meeting for eight years of servant leadership as our Elementary Principal. Mr. Wright is the perfect example of selflessness and embodies a passion for AGISD like no other! We are super blessed to be able to keep him around Panther Nation - loving on and pouring into our secondary students!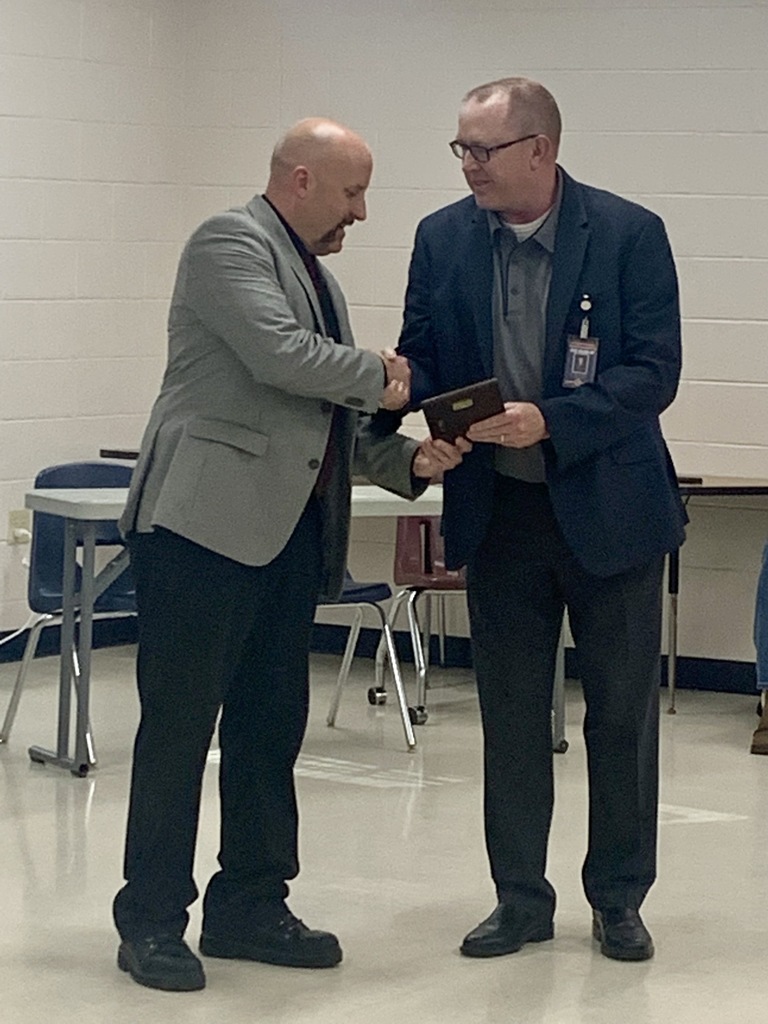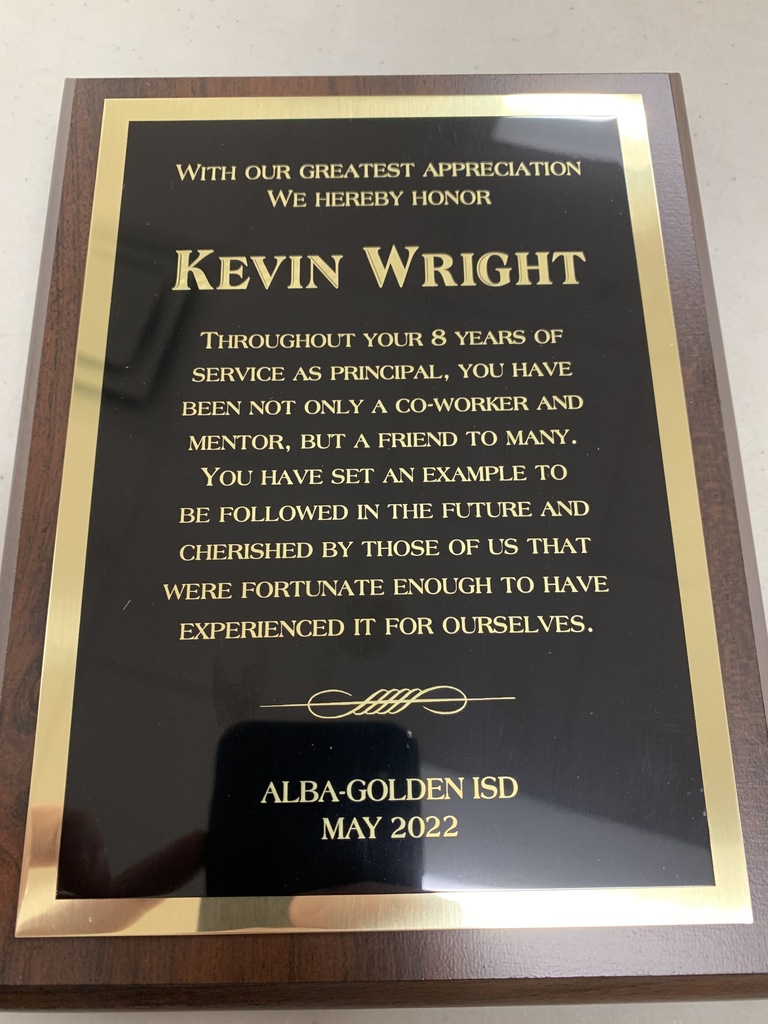 It's election day!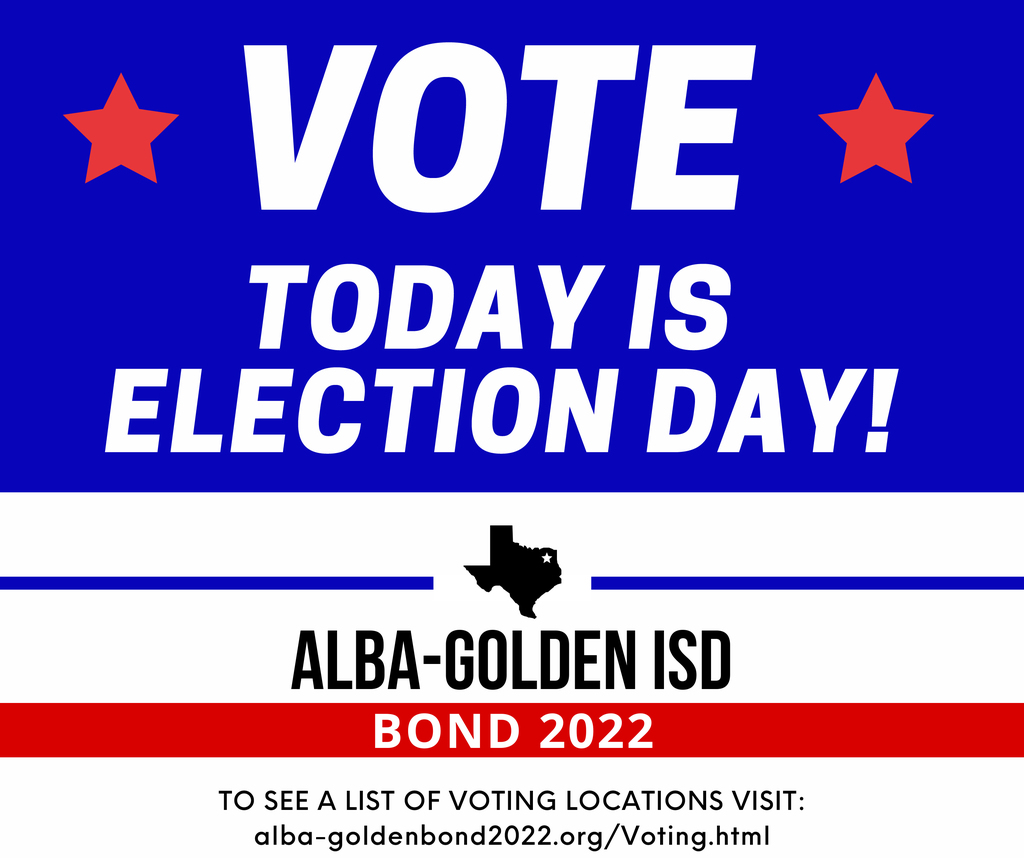 Congratulations to Jake Hallman, State Qualifier in UIL Track & Field Men's 100 M Dash. Jake competes in Austin at the Mike A. Myers Stadium on Friday evening, May 13th. Go get em', Jake!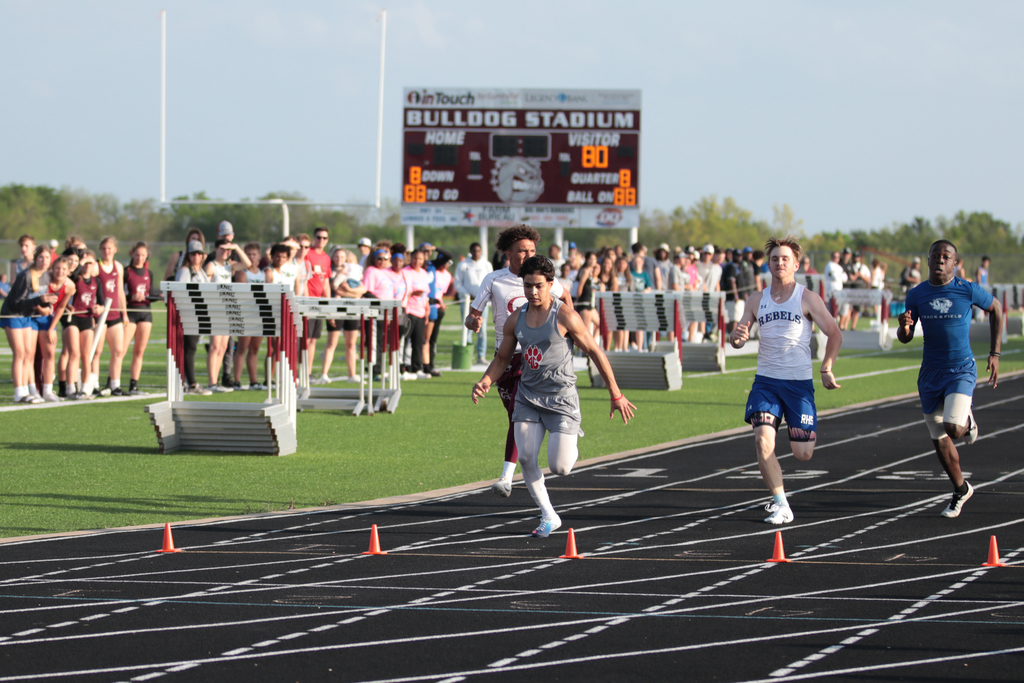 Just a reminder!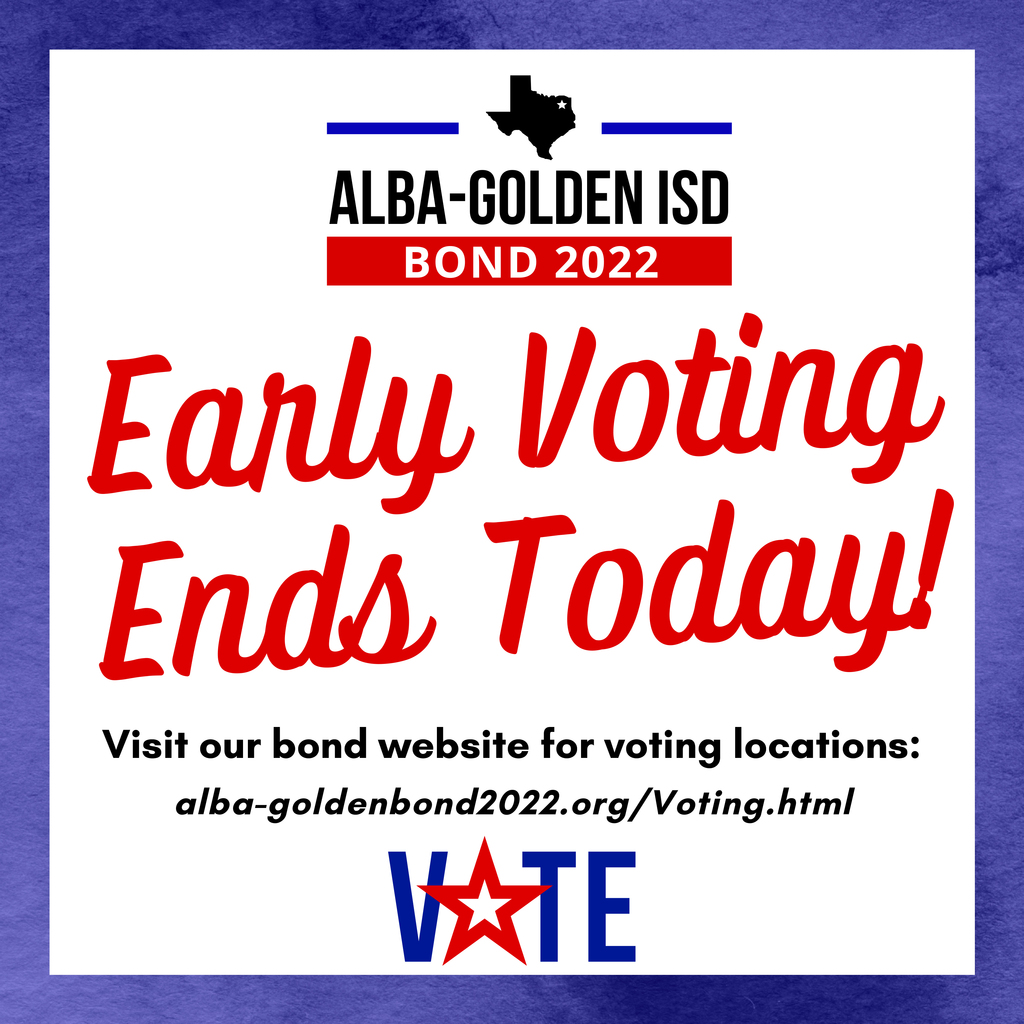 If your child is entering kindergarten or first grade in the fall of 2022, your child may be eligible to attend the ESL K-1 Summer School Program. Please complete the following information so that we can send you information about the summer program.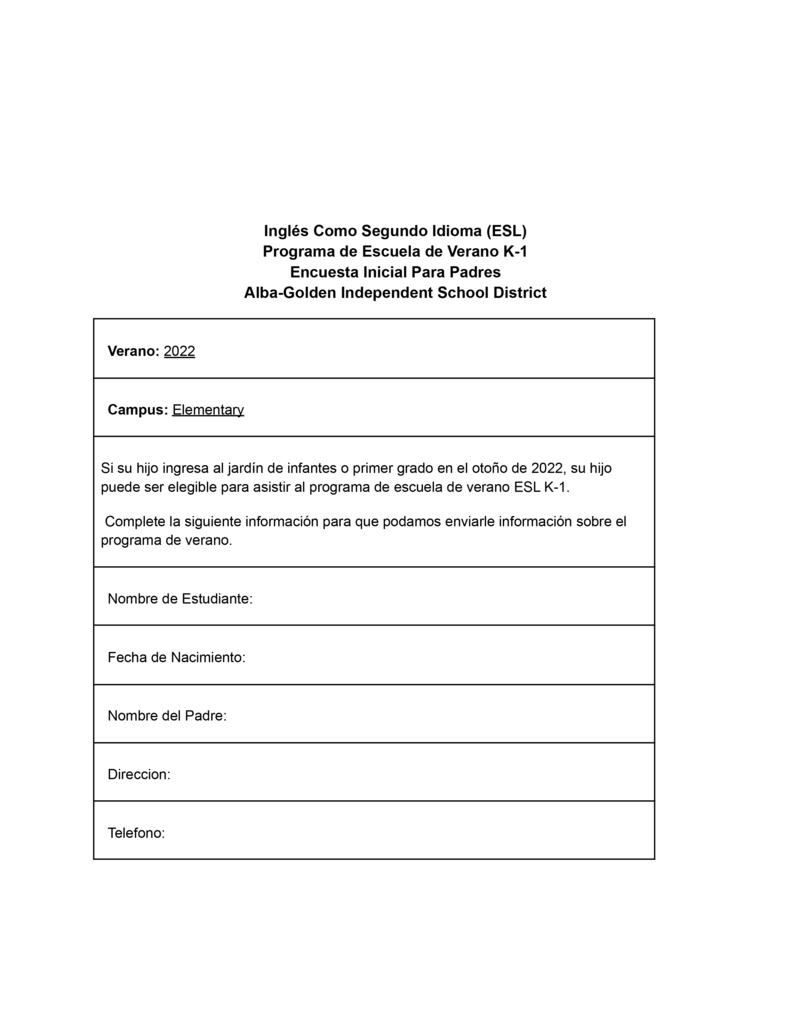 In honor of "National School Principals' Day", we would like to express our gratitute for the outstanding effort that our principals put forth every day! Alba-Golden ISD is blessed with the best campus leaders!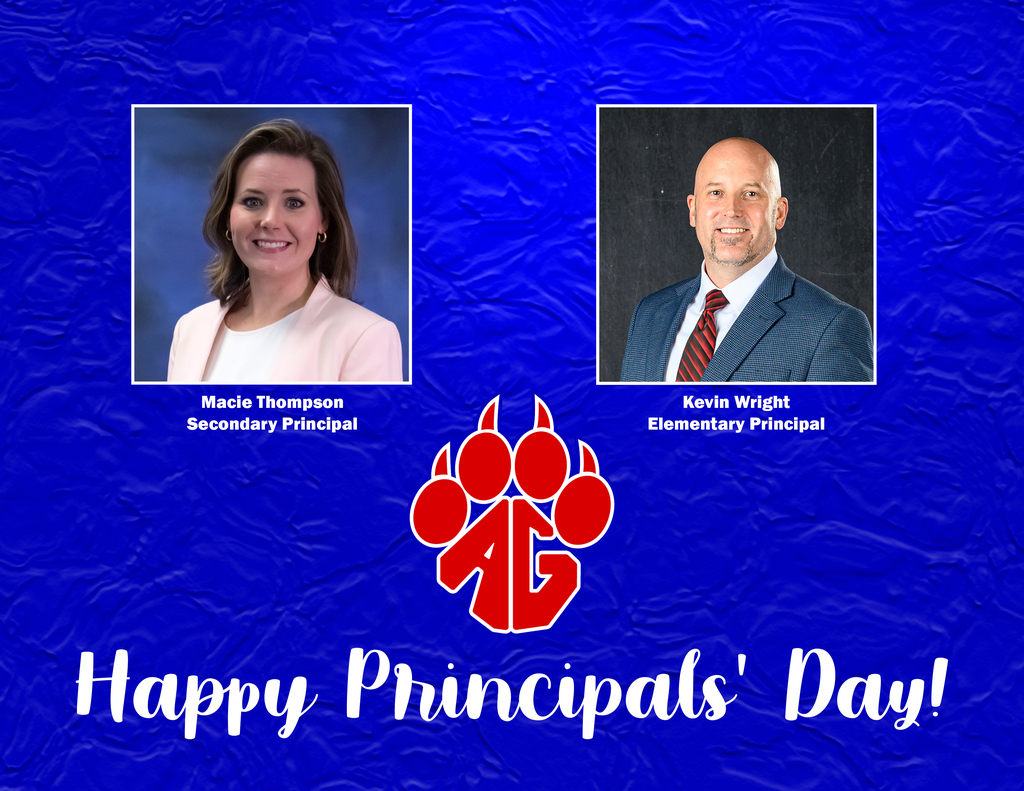 Did you know?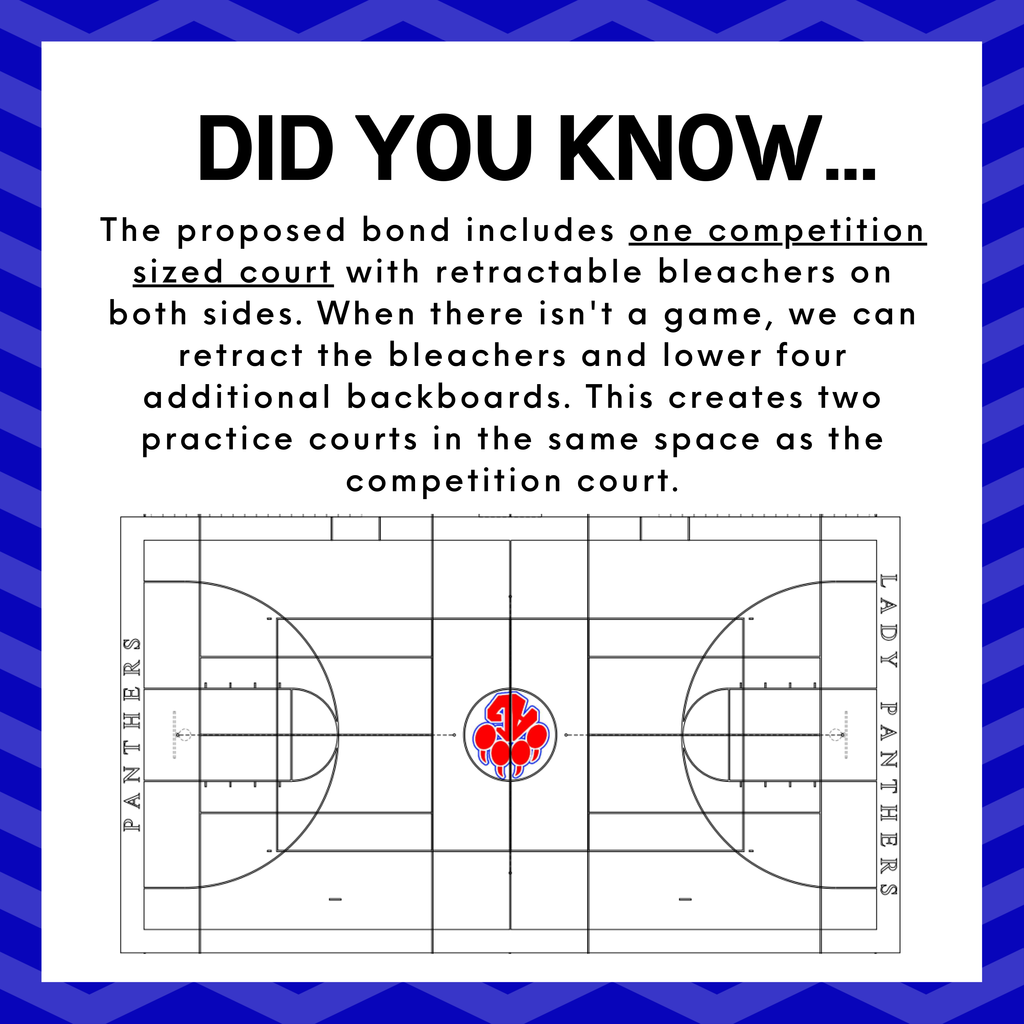 Good Luck to our Lady Panthers tonight as they take on McLeod in a Bi-District Matchup. Game will be played at Hughes Springs. Start time is 7:15pm.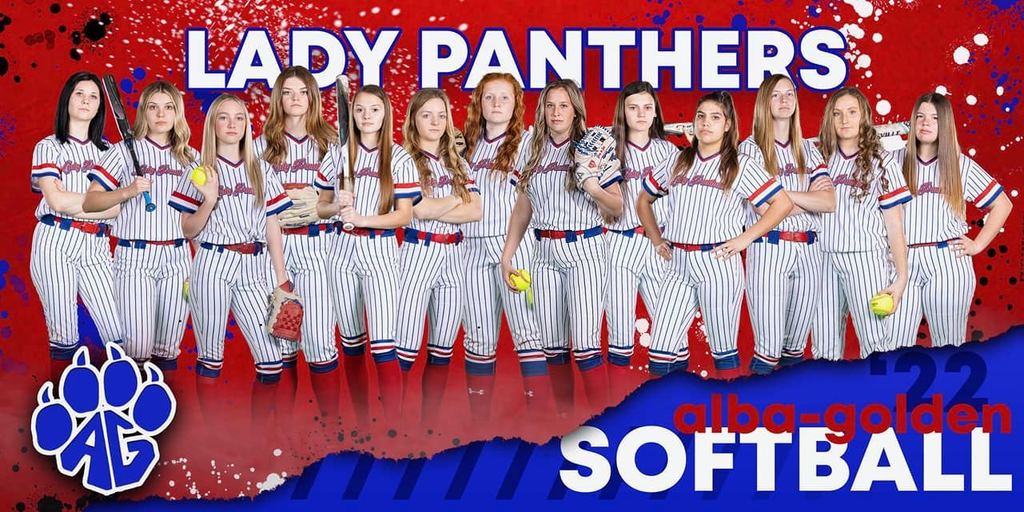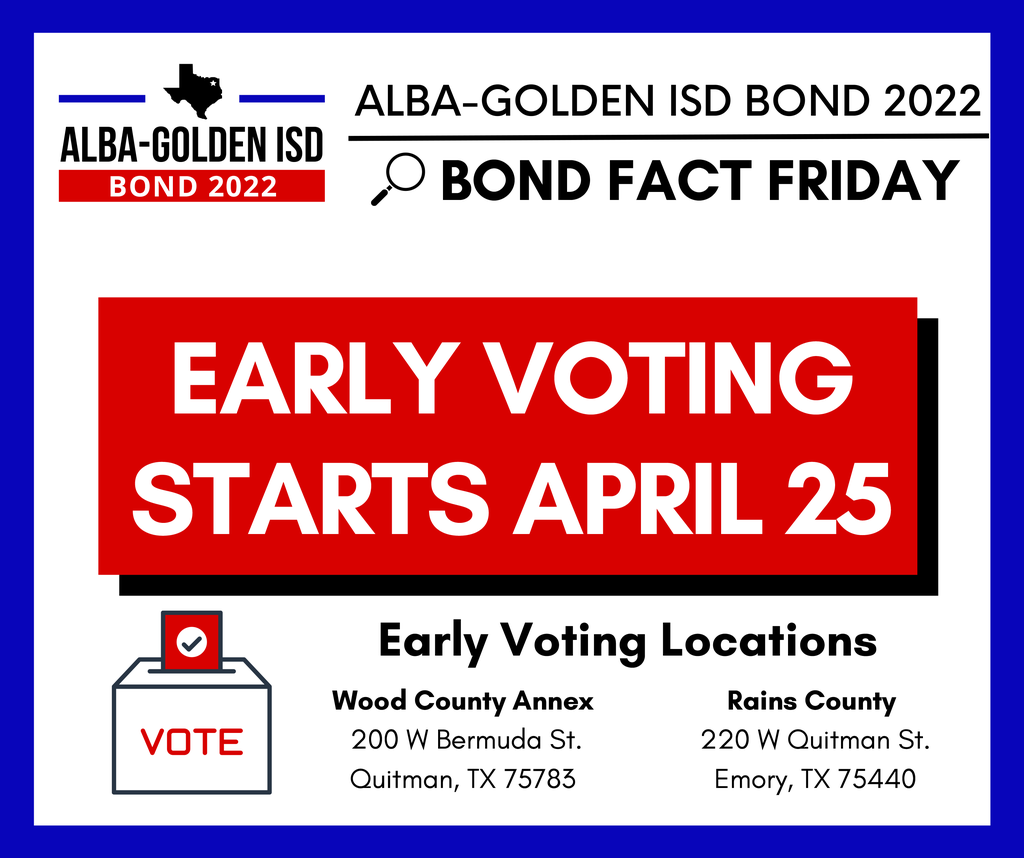 Bond Fact Friday!

Happy Monday! As we begin a new week, we want to remind you that this Thursday will be an Early Release day at 1:00 PM. Also, Friday is a holiday for students and staff, and Monday is a student holiday while teachers will be at staff inservice. We hope that this long weekend will offer your family a time for rest in the midst of this crazy spring season!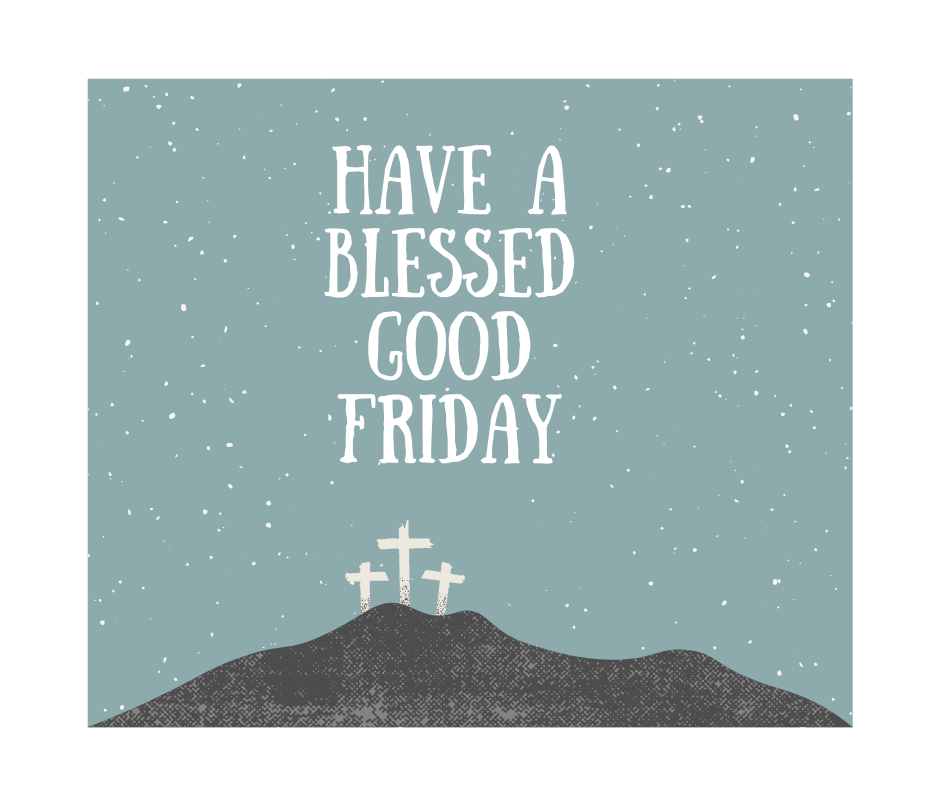 Attention Parents & Guardians! As you begin the process of planning spring appointments and early vacations, we would like to remind you of our dates for spring STAAR testing. There are very few options for make-up testing, so please help us by planning accordingly. Thank you for your cooperation! May 3: Algebra I EOC May 4: Biology EOC May 5: US History EOC & 8th grade Science May 6: 8th Social Studies May 10th: 3rd - 8th grades Mathematics May 11th: 5th - 8th grades Reading May 12th: 3rd & 4th grades Reading & 5th grade Science