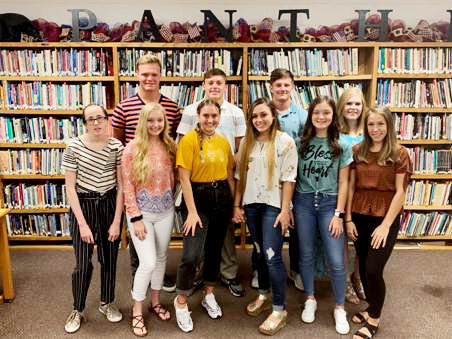 Alba-Golden set to celebrate homecoming
AGISD
Thursday, October 03, 2019
The 2019 Alba-Golden Homecoming court has been announced. The queen and king will be announced at 7 p.m. prior to the Honey Grove football game. This year's court: (front row, left to right) Jessie Weddle, Jordin Barnhart, AnnMarie Pendergrass, Bralee Littlejohn, Carlee Dooley and Hope Wiley; (back row, left to right) Donny Humphries, Jon Michael Chadwick and Chris Chabaud. Not pictured Matthew Rogers.
Alba-Golden High School will name Homecoming Queen and King prior to the football game against Honey Grove. Homecoming ceremonies will begin at 7 p.m.
Nominations for king and queen are Jon Michael Chadwick and Ann Marie Pendergrass chosen by the freshman class. Nominated by the sophomore class are Chris Chaubad and Bralee Littlejohn. Junior class nominees are Matthew Rogers and Jordin Barnhart while the senior class nominated Donny Humphreys and Caitlin Baker.
The young ladies chosen as duchesses are freshman Carlee Doolee; sophomore Jessie Weddle; junior Hope Wiley; and senior Morgann Williams. Kindergartners Grant Goforth and Everlee Galyean will be the Flower Girl and Crown Bearer.